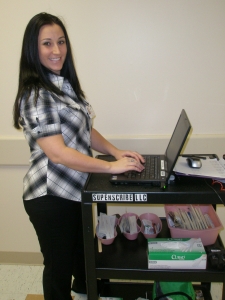 Whether you are a physician seeking a Scribe for your own use or an organization seeking to establish an entire Scribe program, SuperScribe, LLC can assist. Services can be provided as a consultative approach or as complete establishment and management of your Scribe program. Please contact us for more details on either service option. We are committed to providing high quality scribes to enhance your department or practice!
Consultative Scribe Program
SuperScribe, LLC will extensively aid you and your team in establishing your Scribe Program. This option is beneficial to departments who have a management team already established to run the scribes. SuperScribe will work with this team to help create a scribe training program and department policies and procedures. We can also aid with the initial hiring and training rounds of the program. If you do not already have an established management team, we can help you find and train individuals to operate in this position. Ultimately the Scribe program is turned completely over to your management team with short term SuperScribe help available.
Establishment and Management of a Scribe Program
SuperScribe, LLC will recruit, train, and manage scribes at your medical facility. This is a comprehensive service which includes the hiring and training of all scribes, coverage of workers compensation and liability insurance, payroll services, and all management responsibilities for the program.