SuperScribe, LLC has expanded into Remote Patient Monitoring!
What is Remote Patient Monitoring (RPM)?
Remote Patient Monitoring (RPM) is an extension of healthcare delivery that allows technology and devices to gather patient data so that healthcare providers can use that information to care for their patients. RPM is another extension of telehealth, where patients can use devices to send health information, such as blood pressure readings, SpO2 levels, glucose levels, ECG/EKG readings to their providers from home. With the spread of COVID-19 in 2020, telehealth and remote patient monitoring solutions are at the forefront of a new healthcare delivery model. Looking beyond COVID-19, our program will help you enter into the next phase of providing healthcare. The COVID19 pandemic has opened the doors to new opportunities for telehealth and revenue generation through Medicare and Medicare Advantage. As more patients stay at home, remote patient monitoring will be your solution to providing continuous care.
What can we do for you?
Our program is easy to implement and helps you to provide better and easier care for your patients! Patients can take charge of their own health and help to reduce missed appointments since it can be done anywhere. We can provide some assistance with training of the devices, including device maintenance, remote patient monitoring tips, and how you can incorporate RPM and our medical scribes into your practice.
Our remote patient monitoring devices are simple, portable, and easy to use! This allows patients to monitor their own basic vital stats so that they can take more control of their health while allowing you to ensure they can receive proper care, even when they are are home.
Why choose SuperScribe?
SuperScribe has worked with hospitals and clinics throughout Georgia since 2010, and has the reputation of putting quality first. We believe that delivering the highest quality service and products will help ensure that our clients can continue to give the best care to their patients. Our highly trained and dedicated team always brings top results and satisfaction.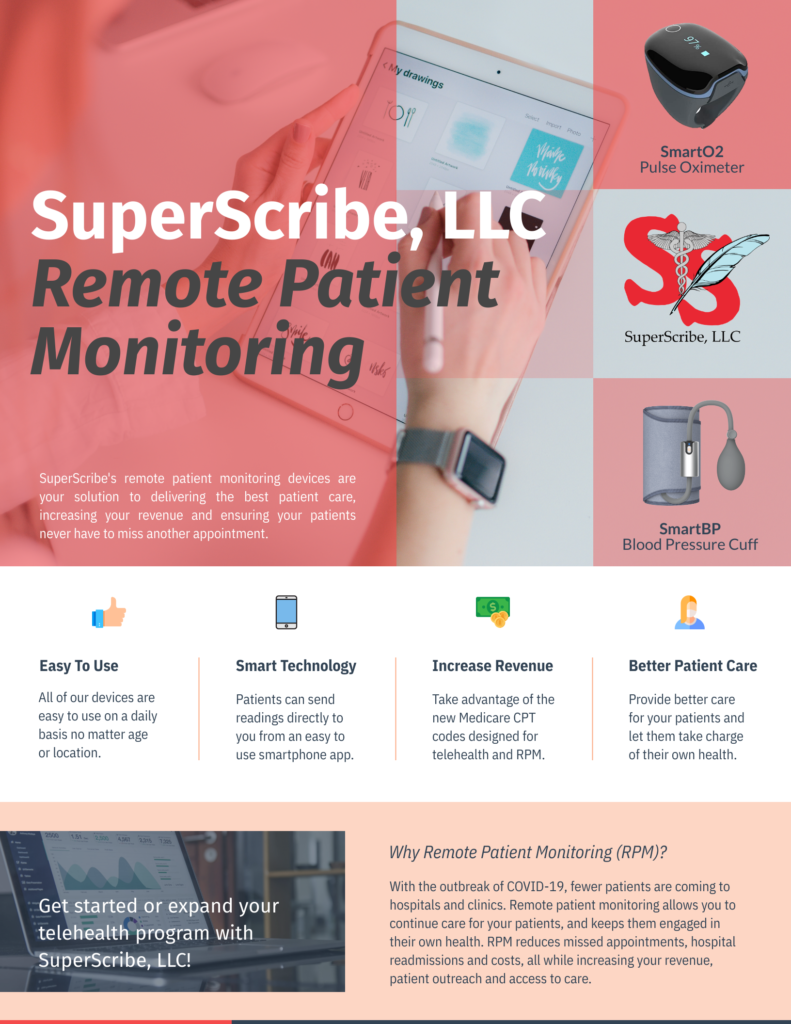 View our SmartBP – Blood Pressure Cuff and SmartO2 – Pulse Oximeter Ring