SuperScribe, LLC has expanded its healthcare services to include Remote Patient Monitoring! To help address a number of issues that hospitals and providers are facing from the COVID-19 pandemic, SuperScribe's new RPM program provides a great solution.
It's no secret that patients have been reducing visits to their PCP's, coming to the Emergency Room less often, and canceling appointments due to reasons including finances, health-related causes, or time. COVID-19 has made people stay at home and caused clinics to close their doors to the public and taking in only virtual patients. By using our RPM devices, patients can monitor their own vitals at their convenience at any location.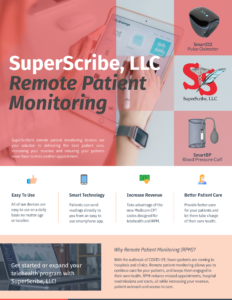 Key advantages for patients to use telemedicine and remote patient monitoring include:
Increased health and safety as you can stay in your own home
Reduce travel expenses, including drive time, fuel, and parking fees
Flexible time to schedule appointments
Securely send your health information. By emailing only your results, there's no worry about sharing payment information, social security numbers, or any other highly confidential information.
Feel connected to your health provider as you are always in communication
Have a better sense of knowing whether an in-person visit is necessary
Key advantages for hospitals, clinics, and providers include:
Continue care for your patients outside of the facility
Monitor your patient's health and let them know if an in-person visit should be required
Allow you to care for patients that have logistics issues. For example, patients in rural areas travel much further and spend more on fuel and time.
Allow you to care for older patients safely in the winter months
Medicare/MA reimbursement opportunities for using remote patient monitoring services
Continued care program management for patients outside of the office
Chronic Care Management eligible
Reduce hospital readmissions and emergency room visits
Reduce costs associated with having patients inside of your office. For example, PPE costs, cleaning supplies, cleaning staff fees
Contact Us today to find out more about our remote patient monitoring devices and how they can help providers and patients!