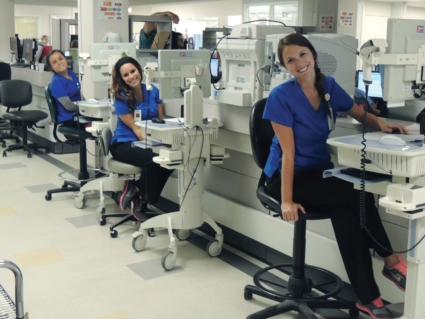 Typically, medical scribes are college students or recent graduates that in their gap year and focused on a career in healthcare. College students are typically looking for more experience in healthcare as they have a current vision of the field they want to enter, but this usually changes during and after the scribing experience. Recent undergrads have a better idea of the field they want to enter, but this vision can also change, especially when scribing in an emergency department setting. Nothing beats real world experience right?
A little background. The electronic health record (EHR) or electronic medical record (EMR) have been around since the 1970's in the United States. President Bush was the first to start pushing for more usage of the EHR and President Obama was the first to really use financial leverage as a way to really implement the use of electronic record keeping. Today, nearly every health system and outpatient clinic uses one of the hundreds of different EHR systems that have been developed. Although big players such as EPIC, Cerner, Allscripts, Meditech, and eClinicalWorks get most of the attention, there are a wide variety of smaller systems that are in use by smaller practices. There are nuances to each system, but they all work in a similar fashion.
Healthcare providers are great at what they are trained to do: taking care of patients. However, the implementation of EHR systems threw in a monkey wrench from the old system of using paper notes. It's a good thing that we moved to a digital system because patient records can be easily accessed by providers and the patient, and patient data can be sent anywhere in a matter of minutes. But this means that providers have to be proficient in using computers/tablets and patient care at the same time. Just picture your provider listening to your heart, then going to type up the info, looking in your ears, typing up that info, and back and forth. Or they are talking to you with their face to the computer while you're trying to tell them about your chest pain and back soreness.
This is where medical scribes come in. Scribes are there to document the patient encounter so the provider can give his or her 100% full attention to the patient. The provider can genuinely care for the patient, the scribe can document the entire encounter while completing the HPI and ROS, the patient is happier, and more billing points on the chart are completed so the provider can achieve higher reimbursement per patient encounter.
The benefits to using medical scribes
More attention is given to patients
Providers can see more patients throughout the day
Less time is spent on the EHR, leading to less burnout
More billing points can be achieved per patient chart
A new generation of healthcare providers is helped being trained by you
Scribes can be chaperones in specific cases for the opposite sex
You can go home earlier as your charts are completed in live time, and are oftentimes prepped for the next patient
SuperScribe, LLC has been operating throughout Georgia for over ten years, servicing health systems, hospitals, clinics, and independent providers with their medical scribe needs. Whenever the provider is working, we are working too. So this means weekdays, weekends, overnight shifts, and holidays. We handle all the hiring, staffing, scheduling, training (this includes HIPAA, EMTALA, our policies, client policies, EHR use, etc.) so all you have to do as the provider is show up to work with a scribe that's ready too.
Contact us today at information@superscribellc.com or 770-545-8815 to start or expand your medical scribe program today!